Posts for tag: crowns
By LifeSmiles of New Hope
March 04, 2021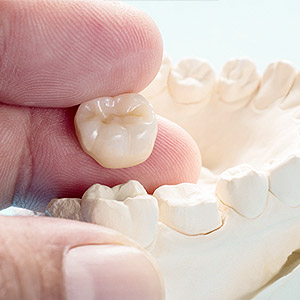 Millions of Americans rely on dental insurance to help them better afford dental care. Depending on the benefit package, an insurance policy can be useful in restoring dental health compromised by disease or injury.
But how life-like that restoration may appear is often a secondary concern with many insurance plans. For example, dental insurance will pay for a crown restoration that restores function to a tooth, but not necessarily of the highest aesthetic quality for achieving a truly life-like appearance.
To be sure, not all dental crowns are the same. Some are all metal, usually gold or silver. Some are "hybrids," made of an interior metal shell with an outer fused porcelain shell (porcelain-fused-to-metal or PFM). In recent years all -ceramic crowns made of stronger life-like ceramics have become the most popular.
The type of crown used will depend a great deal on the type and location of the tooth. Teeth on the back of the jaw that encounter greater biting forces and are not as noticeable in the smile may do better with a metal or PFM crown. Visible side and front teeth are more likely candidates for all-ceramic. Your dentist will give you your best options as it pertains to your dental needs and appearance.
There's also a difference in crown workmanship. Dental laboratories now use milling machinery that sculpts a crown from a single block of material. Although some final handwork by skilled technicians is still necessary, milling has streamlined the process—and the cost—for producing a crown of high functioning quality.
But crowns that achieve the most natural smile appearance require more in the way of artistic craftsmanship. This in turn can increase the crown's price—beyond what many dental policies agree to cover. You may then be faced with a decision: an insurance-covered functional crown with an acceptable level of life-likeness or a more life-like crown for which you may have to pay more out-of-pocket.
Your dentist can advise you on your best options for a crown restoration, also factoring in what your insurance will cover. Ultimately, though, you'll have to weigh the kind of smile you desire with your dental situation and finances.
If you would like more information on dental crown restorations, please contact us or schedule an appointment for a consultation. You can also learn more about this topic by reading the Dear Doctor magazine article "Porcelain Dental Crowns."
By LifeSmiles of New Hope
March 17, 2020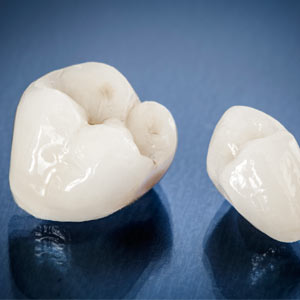 If you're in need of a crown to cover a damaged tooth, you have a lot of options. But before you choose, you need to know what you want. Would you be happy with an affordable, well-fitting crown that holds up well and allows you to chew comfortably? Or are you interested in a more expensive one that also provides the most attractive result?
Crowns have been a mainstay in dentistry for generations. The first were made of metals like gold or silver — durable and effective but not very attractive.
In time, a ceramic material known as dental porcelain began to make its appearance in crowns. Dental porcelain could be fashioned to resemble the color and texture of natural teeth, but it had a significant drawback: it could be brittle and subject to shattering under chewing pressure.
This problem was somewhat addressed with the innovation of a crown with a metal substructure fused with an outer layer of porcelain. These porcelain-fused-to-metal (PFM) crowns combined the best advantages of both materials: strength and life-likeness. Up until around the mid-2000s, PFM made up over 80% of crowns.
But later porcelains continued to improve in strength, beginning in 1993 with the introduction of a Lucite-reinforced material. Newer formulations like lithium disilicate or zirconium oxide (now considered the strongest porcelain) have made all-porcelain crowns a viable option. Today, an estimated 60% of new crowns are all-porcelain.
From an appearance standpoint, all-porcelain crowns achieve the best results. The most realistic crown can be costly — not because of the material but the level of artistry required. A skilled dental technician will spend several hours, including brushing on as many as fifteen coats of liquid porcelain to the crown, to achieve the most life-like outcome. Your insurance plan, if you have one, will most likely not pay as high a percentage for that type of crown.
In the end, it's your decision as to what type of crown you wish to have. We'll help you weigh your options and decide what's best for you and your budget.
If you would like more information on crown options, please contact us or schedule an appointment for a consultation.
By LifeSmiles of New Hope
February 06, 2020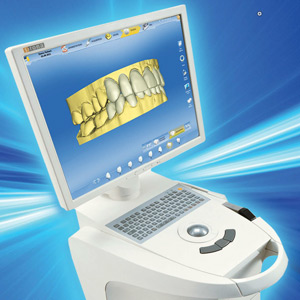 The traditional way to restore a tooth with an artificial crown takes several weeks and multiple office visits: from tooth preparation and impression molding to crown production by a dental laboratory, followed by adjustments and cementing. Now, there's an alternative that reduces this process to a fraction of the time, and all from your dentist's office.
Computer-Aided Design/Computer-Aided Manufacturing (CAD/CAM) is a digital system that enables dentists to create dental restorations with laboratory-grade materials in minutes rather than weeks. As it continues to innovate, you'll see more and more dentists investing in the new technology for their patients.
A crown restoration with CAD/CAM begins like any other with decay removal and preparation of the tooth. It diverges, though, from the traditional in how an impression of your teeth and gums is obtained: instead of rubber-like molding materials to create a physical impression, we lightly dust the mouth interior with a reflective powder. Using a scanning wand, the reflective powder allows us to capture multiple, detailed images of your mouth that the CAD/CAM computer transforms into an accurate three-dimensional model.
We use the model to first assess if the tooth has been effectively prepared for a restoration. If so, the design feature of the system will provide us with thousands of tooth forms to choose from to match with your natural teeth. You'll be able to view the proposed size and shape of the new crown via computer simulation before signing off on the design.
Next is the actual manufacture of the crown that takes place right in the dentist's office. A pre-formed block of ceramic material is inserted in the milling equipment where, following the pre-determined computer design, the milling heads carve the ceramic block. After milling, we fine-tune the crown surface and apply stains or glazes fired to create a life-like color and texture that matches your natural teeth. We can then adjust the crown in your mouth and permanently affix it to the tooth.
While much of the CAD/CAM system is automated, ultimate success still depends on the dentist's expertise and artistry. CAD/CAM enhances those skills with greater precision and in much less time than traditional crowns. It's certainly a growing option for many people to restore the form and function of decayed teeth.
If you would like more information on computer-aided dental restorations, please contact us or schedule an appointment for a consultation. You can also learn more about this topic by reading the Dear Doctor magazine article "Creating In-Office Dental Restorations with Computers."