Posts for tag: dental implants
By LifeSmiles of New Hope
December 02, 2018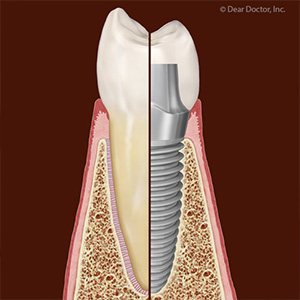 There are several reasons why dental implants are so popular. Perhaps the most important, though, is their longevity: if maintained properly implants can last for decades. However, they're not indestructible—certain mouth conditions could put them at risk for early failure. But if you address emerging problems early, you may be able to prevent that unfortunate outcome.
Your implants may be in danger, for example, if you have a teeth grinding or clenching habit. This occurs when a person involuntarily and repeatedly bites down on their teeth when not chewing or speaking. Usually triggered in adults by high stress, teeth grinding can subject both natural teeth and implants to damaging levels of force. Over time this can cause bone loss around an implant and weaken their support. It could also cause a direct break in an implant.
But there are ways to stop or at least reduce the effects of teeth grinding. One effective way is a custom-made bite guard you wear while you sleep. Made of hard plastic, the guard prevents the teeth from making solid contact with each other, reducing the amount of force generated.
A more prominent problem is periodontal (gum) disease, a bacterial infection caused by built-up dental plaque on tooth surfaces. This can trigger inflammation, a normal defensive response that when it persists for an extended period of time can damage tissues and supporting bone. It can also cause a specific form of gum disease related to implants called peri-implantitis, in which the tissues that support an implant become infected and weaken, leading eventually to possible implant failure.
If you have implants, then, you should brush and floss daily to prevent gum disease, as well as see your dentist at least every six months for cleanings and checkups. And if you notice anything like reddened, swollen or bleeding gums, see your dentist immediately. The sooner you undergo treatment, the better the outcome for your implants as well as your overall health.
Dental implants can give you years of great service and can prove to be well worth the cost. But you'll have to stay on your guard against gum disease and other mouth conditions that could endanger them down the road.
If you would like more information on dental implants, please contact us or schedule an appointment for a consultation. You can also learn more about this topic by reading the Dear Doctor magazine article "Dental Implants: A Tooth-Replacement Method that Rarely Fails."
By LifeSmiles of New Hope
October 01, 2018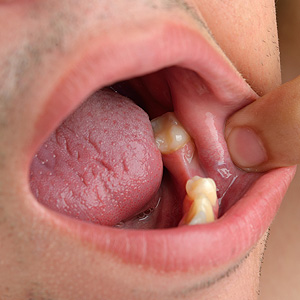 People often put a premium on appearance when deciding whether or not to replace a missing tooth. There's more motivation to replace one in the "smile zone," where the teeth are more visible, than one that's not.
But even if your missing tooth is in the back out of sight, there are still good reasons to replace it. That's because even one lost tooth can have a cascading ill effect on other teeth, the underlying bone or eventually your entire facial structure.
The chief problems caused by a missing tooth occur first with the bone. The act of chewing generates pressure around the teeth. The teeth transmit this pressure through the roots to the bone, which stimulates the bone to grow and remain strong in support of the teeth. When you lose a tooth, the bone no longer receives this growth stimulation.
In time, the replacement rate for older bone cells will slow down and cause the bone volume to decrease. It's possible to detect a change just months after losing a tooth: you can lose an estimated 25% of bone width in the first year.
As the bone diminishes, the jaw loses height and then more width. The gum tissues will also gradually decrease. As a result you may not be able to chew or even speak as well as you once could. Depending on the number of teeth you've lost, the foundational portion of the jawbone — the basal bone — may also decline. The distance between nose and chin may decrease and the cheeks sink in. Without bone support in the rear, the bite can collapse and push the teeth forward out of their normal position.
The best way to avoid this debilitating spiral is to replace a tooth as soon as practical. There are many options, but perhaps the best choice is a dental implant: not only will it provide a life-like appearance, but its affinity with bone will stop bone loss and even encourage new growth.
So, don't neglect replacing that "invisible" tooth if it's lost. Your mouth and ultimately your appearance will be better for it.
If you would like more information on tooth loss and restoration options, please contact us or schedule an appointment for a consultation. You can also learn more about this topic by reading the Dear Doctor magazine article "The Hidden Consequences of Losing Teeth."
By LifeSmiles of New Hope
May 04, 2018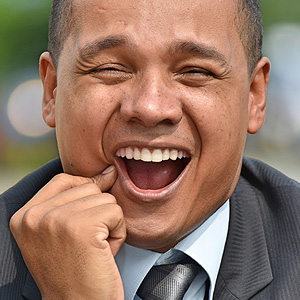 The month of May has been designated "Better Speech & Hearing Month" by the American Speech-Language-Hearing Association. Why would this be of interest to dental professionals? Because teeth are vital for good speech, and missing teeth can make it very hard to speak properly.
Speech is all about sounds, and forming sounds correctly requires proper positioning of oral structures such as the lips, tongue and teeth. For example, there are some words that are almost impossible to pronounce correctly without touching your tongue to your teeth. In fact, one of the hardest words to say without teeth…is teeth!
Missing teeth can affect speech indirectly as well, by reducing self-confidence. People who are missing front teeth often develop the habit of talking behind their hand or mumbling to avoid revealing the gap in their smile. Not being able to speak clearly and confidently can affect not only your appearance, but also your job prospects and social life. So what can you do about missing teeth?
Dental implants are today's preferred tooth-replacement method. Implants are small titanium posts that are inserted in the jaw bone beneath your gums. They serve as "roots" to hold realistic-looking prosthetic (artificial) teeth in place. Implants can be used to replace one tooth, a group of teeth, or an entire row of teeth (upper or lower). Sometimes a dental implant can be placed the same day a failing tooth is removed so that you won't need a second surgical procedure.
The healthy natural teeth on either side of the gap can also be used to support one or more replacement teeth. This method, called bridgework, can be used to replace a single tooth or several teeth in a row. Another option is removable dentures, which do not stay in the mouth all the time.
Each of these options has its benefits and risks. We'd be happy to discuss all of them in detail and help you decide which would be best in your own situation. To learn more about tooth replacement, please contact us or schedule a consultation. You can also read the Dear Doctor magazine articles "Dental Implant Surgery" and "New Teeth in One Day."