Posts for tag: gum disease
By LifeSmiles of New Hope
September 12, 2021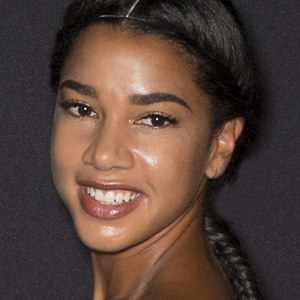 Hannah Bronfman, well-known DJ and founder of the health and beauty website HBFIT.com, took a tumble while biking a few years ago. After the initial pain and bruising subsided, all seemed well—until she started experiencing headaches, fatigue and unexplained weight gain. Her doctors finally located the source—a serious infection emanating from a tooth injured during the accident.
It's easy to think of the human body as a loose confederation of organs and tissues that by and large keep their problems to themselves. But we'd do better to consider the body as an organic whole—and that a seemingly isolated condition may actually disrupt other aspects of our health.
That can be the case with oral infections triggered by tooth decay or gum disease, or from trauma as in Bronfman's case. These infections, which can inflict severe damage on teeth and gums, may also contribute to health issues beyond the mouth. They can even worsen serious, life-threatening conditions like heart disease.
The bacteria that cause both tooth decay and gum disease could be the mechanism for these extended problems. It's possible for bacteria active during an oral infection to migrate to other parts of the body through the bloodstream. If that happens, they can spread infection elsewhere, as it appears happened with Bronfman.
But perhaps the more common way for a dental disease to impact general health is through chronic inflammation. Initially, this defensive response by the body is a good thing—it serves to isolate diseased or injured tissues from healthier tissues. But if it becomes chronic, inflammation can cause its own share of damage.
The inflammation associated with gum disease can lead to weakened gum tissues that lose their attachment to teeth. But clinical research over the last few years also points to another possibility—that periodontal inflammation could worsen the inflammation associated with diseases like heart disease, diabetes or arthritis.
Because of this potential harm not only to your teeth and gums but also to the rest of your body, you shouldn't take an oral injury or infection lightly. If you've had an accident involving your mouth, see your dentist as soon as possible for a complete examination. You should also make an appointment if you notice signs of infection like swollen or bleeding gums.
Prompt dental treatment can help you minimize potential damage to your teeth and gums. It could also protect the rest of your health.
If you would like more information about the effects of dental problems on the rest of the body, please contact us or schedule a consultation. To learn more, read the Dear Doctor magazine article "The Link Between Heart and Gum Diseases."
By LifeSmiles of New Hope
February 10, 2019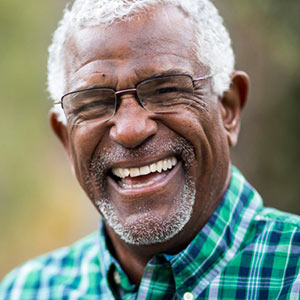 Like other aspects of our lives, aging can take a toll on our smile. Over a lifetime the effects of disease, teeth wearing and the foods we eat can cause our teeth and gums to look unattractive.
Here are 3 of the most common age-related dental problems and how we can help you "turn back the clock" on each one.
Discoloration. Teeth can dull and grow darker over time. And not just from what we eat or drink—age-related structural changes in the tooth can also cause discoloration. We can often alleviate external staining temporarily with teeth whitening. If the staining is heavy or it originates inside the tooth, then we can install life-like porcelain veneers or crowns to cover the discoloration. We can also use composite dental materials to alter the color of one darkened tooth so that it doesn't stand out from the rest of your teeth.
Wearing. Our teeth naturally wear down over time. If the wearing is excessive, though, teeth can look shorter and less youthful. Again, we can use veneers or crowns to change a tooth's outward appearance and make them look longer. We can also employ enamel contouring and reshaping that smoothes out sharper edges caused by wearing to give your teeth a softer, more youthful look.
Receding gums. On the other end of the spectrum, gums that have shrunk back or receded from the teeth can make them look much larger and unattractive. Our first step is to treat any gum disease present—the most common cause of recession—which often helps the tissues to regenerate. If your case is more advanced, though, you may also need grafting surgery to restore lost gum tissue. Using in-depth microsurgical techniques, surgeons attach grafted gum tissue at the recession site. Over time new tissue will grow, restoring adequate gum coverage.
You can also improve your appearance at any age with orthodontics. Besides a more attractive smile, properly aligned teeth tend to wear more slowly and evenly. This and proper daily oral hygiene and regular dental care can keep your teeth looking younger even in your later years.
If you would like more information on gaining a more youthful smile, please contact us or schedule an appointment for a consultation. You can also learn more about this topic by reading the Dear Doctor magazine article "How Your Dentist can help you Look Younger."
By LifeSmiles of New Hope
October 23, 2018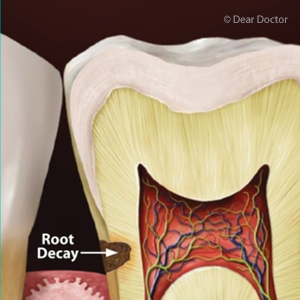 Tooth decay is a highly destructive dental disease, responsible along with periodontal (gum) disease for most adult tooth loss. And we become even more susceptible to it as we get older.
One form of decay that's especially prominent among senior adults is a root cavity. Similar to a cavity in the crown (visible tooth), this form instead occurs at or below the gum line in the roots. They happen mainly because the roots have become exposed due to gum recession, a common consequence of periodontal (gum) disease and/or brushing too hard.
Exposed roots are extremely vulnerable to disease because they don't have the benefit of protective enamel like the tooth crown, covered instead with a thin and less protective mineral-like material called cementum. Normally, that's not a problem because the gums that would normally cover them offer the bulk of the protection. But with the gums receded, the roots must depend on the less-effective cementum for protection against disease.
Although we treat root cavities in a similar way to those in the crown by removing decayed structure and then filling them, there's often an added difficulty in accessing them below the gum line. Because of its location we may need to surgically enter through the gums to reach the cavity. This can increase the effort and expense to treat them.
It's best then to prevent them if at all possible. This means practicing daily brushing and flossing to remove bacterial plaque, the thin, built-up biofilm on teeth most responsible for both tooth decay and gum disease. You should also visit your dentist at least twice a year for professional cleanings and advanced prevention methods like topical fluoride to strengthen any at-risk teeth.
You should also seek immediate treatment at the first sign of gum disease to help prevent gum recession. Even if it has occurred, treating the overall disease could help renew gum attachment. We may also need to support tissue regeneration with grafting surgery.
Root cavities are a serious matter that could lead to tooth loss. But by practicing prevention and getting prompt treatment for any dental disease, you can stop them from destroying your smile.
If you would like more information on diagnosing and treating root cavities, please contact us or schedule an appointment for a consultation. You can also learn more about this topic by reading the Dear Doctor magazine article "Root Cavities: Tooth Decay near the Gum Line Affects Many Older Adults."