Posts for tag: nutrition
By LifeSmiles of New Hope
December 28, 2019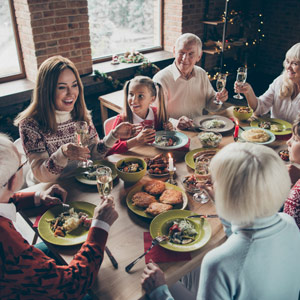 'Tis the season to be merry—and with plenty of edible goodies! During the holidays, families fill their homes with all sorts of delectable treats for friends and loved ones. But there can be unintended consequences with all this joyous feasting, and not just added pounds come January: eating more sugar could increase your risk for dental disease.
We're not here to throw a wet blanket on your holiday fun. Instead, we have 4 commonsense tips to help you keep your holiday snacking from ultimately causing tooth and gum woes.
Blend in healthier choices. The problem with sugar is that it's a prime food source of disease-causing oral bacteria. The more sugar available in the mouth, the more these bacteria multiply and increase the disease threat to your teeth and gums. So, try reducing sugar by adding savory treats like nuts or flavored popcorn to your sweeter offerings. And don't forget cheese and other dairy—eating dairy products along with sweets can help blunt some of sugar's effect on bacteria.
Avoid "grazing." While it's tempting to do so during the holidays, continuous snacking increases the mouth's acidity, which is like Superman's kryptonite to your tooth enamel. The longer acid directly contacts your enamel, the more it can soften it and open the door to tooth decay. Saliva neutralizes after-meal acid; but if you're constantly snacking, you could prevent saliva from completely buffering the acid present. So, limit your snacking time—or better yet, reserve your sweet treats for mealtime.
Don't neglect your hygiene. The hectic pace of the holidays can interfere with people's normal routines. Don't let that happen to your daily practice of brushing and flossing. These essential hygiene tasks clean your teeth of a disease-causing biofilm called dental plaque. Miss a few days and the accumulated plaque could trigger an infection that could damage your gums and ultimately your teeth. You can help avoid this by brushing and flossing every day.
Don't brush right after eating. The mouth's acidity naturally increases during and just after eating. As we alluded to earlier, saliva's on the job getting the mouth back to a more neutral state and reducing the effect of acid on enamel. That takes about an hour, though, and in the meantime your enamel may be in a slightly softened state. If you brush right after eating, you might inadvertently brush tiny bits of enamel. So, wait an hour or so after eating before you brush.
The holidays are all about enjoying friends and family and ringing in the new year. Follow these tips to ensure it's a healthy and happy one for your teeth and gums.
If you would like more information about dental care during the holidays, please contact us or schedule a consultation. To learn more, read the Dear Doctor magazine article "6 Tips to Help Prevent the Erosion of Tooth Enamel."
By LifeSmiles of New Hope
February 20, 2019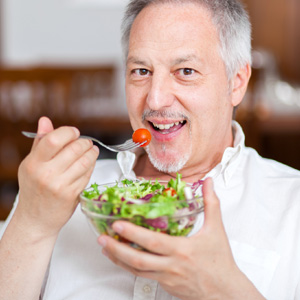 One of the most popular subjects in books, magazines and social media is food — the things we should or should not eat (or at least not too much). While losing weight is a popular focus, it's only one part of the whole — a balanced diet that supplies the nutrients we need to be healthy.
What you eat can also make a difference in your oral health. Here are 4 changes you should make to your dietary habits to cut down on the risk of dental disease.
Adopt a nutritionally sound diet plan. When we say diet, we're not talking about the latest weight-loss sensation — we mean a planned way of eating for life. For most people, that's a balanced diet of fresh fruits and vegetables, protein and dairy. Your teeth and gums have the best chance of remaining strong and healthy with a nutrient-rich diet.
Manage your sugar intake. Sugar and similar carbohydrates are a rich food source for bacteria that cause dental disease. It's important then that you keep your sugar consumption within limits: don't eat more than six teaspoons of processed sugar a day (or three for a child); avoid sugary snacks between meals; and try to satisfy your sweet tooth with the natural sugars found in fresh fruits and vegetables.
Cut back on acidic beverages. Sodas, juices, sports and energy drinks are all the rage. They're also high in acid, which at chronic levels can soften and erode tooth enamel. So, try to drink them only at meal times and avoid sipping on them over long periods. And, if you're hydrating yourself after moderate work or exercise, try nature's perfect hydrator — water.
Avoid eating before bedtime. A good portion of the acid in our mouths after we eat can be neutralized by saliva. As we sleep, though, our saliva flow slows down and doesn't have the same buffering power as it does during the day. So, try not to eat as least an hour before you turn in for the night, especially foods with added sugar.
If you would like more information on nutrition and oral health, please contact us or schedule an appointment for a consultation. You can also learn more about this topic by reading the Dear Doctor magazine article "Nutrition & Oral Health."
By LifeSmiles of New Hope
November 12, 2018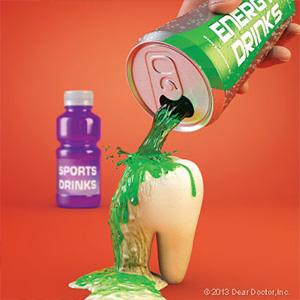 Although energy and sports drinks have different purposes, they have one thing in common: they often contain added citric and other acids to improve taste and prolong shelf life. Their high acid content can harm tooth enamel.
Although enamel is the strongest substance in the body, acid can dissolve its mineral content. And although saliva neutralizes acid after eating or drinking and helps restore lost minerals to the enamel, it may not be able to keep up if the mouth remains acidic for a prolonged period of time.
That could happen with both beverage types. While energy drinks have higher acid levels than sports drinks, both are high compared with other beverages.
A recent laboratory experiment studied the two beverages' effect on tooth enamel. The researchers submerged samples of enamel in six different beverage brands (three from each category) for fifteen minutes, and then in artificial saliva for two hours to simulate mouth conditions. They repeated this cycle four times a day for five days.
At the end of the experiment the enamel in the energy drinks lost on average 3.1 % of their structure, while the sports drink samples lost 1.5%. Although energy drinks appeared more destructive, the acid in both beverages caused enamel damage. Although there are other factors to consider in real life, the experiment results do raise concerns about both beverages' effect on dental health.
You can, however, minimize the potential harm to your enamel from energy or sports drinks. First, try other beverage choices lower in acid; water, for example, is a natural hydrator and neutral in pH. Try to only drink energy or sports beverages at mealtimes when your saliva is most active. And after drinking, rinse your mouth out with water to dilute any remaining acid.
And although it sounds counterintuitive, wait about an hour to brush your teeth after drinking one of these beverages. Your enamel can be in a softened state before saliva can re-mineralize it, so brushing earlier could remove tiny amounts of enamel minerals.
Taking these steps with energy or sports beverages could help you reduce the chances for enamel erosion. Doing so may help you avoid unnecessary damage to your teeth and overall dental health.
If you would like more information on the effect of sports and energy drinks on dental health, please contact us or schedule an appointment for a consultation. You can also learn more about this topic by reading the Dear Doctor magazine article "Think Before You Drink."