Posts for tag: tooth wear
By LifeSmiles of New Hope
August 23, 2021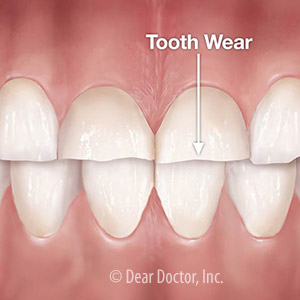 If you do the right things—keep your teeth clean, see the dentist regularly, and eat a "tooth-friendly" diet—you stand a good chance of having healthy teeth and gums later in life. Even so, after eating well over 75,000 meals by age 70, you can expect some wear from all that biting and chewing.
But there's normal wear—and then there's excessive wear, which can be caused by a variety of factors. When it occurs, accelerated wear can increase your risk of dental disease—and your shorter-toothed smile can make you look older than your actual age.
Here are 3 dental problems that can lead to accelerated tooth wear, and what you can do about them.
Tooth decay. This dental disease can severely weaken a tooth's protective enamel surface, which can in turn increase wear. You can minimize your chances of developing tooth decay by brushing and flossing your teeth daily and undergoing regular dental cleanings. And the sooner you receive treatment for any diagnosed decay, the less likely your enamel will suffer significant damage.
Poor bite. Properly aligned teeth mesh well together while biting and chewing, which minimizes wearing. But misalignments put undue stress on teeth that can lead to accelerated wear. By correcting a bite problem through orthodontics, we can properly align teeth so that they interact with each other normally for less wear.
Teeth grinding. This unconscious habit of gnashing or grinding teeth (often during sleep) can produce abnormally high biting forces. Among other adverse outcomes, this can also increase teeth wearing. If you grind your teeth, there are therapeutic methods that could reduce the habit. You can also obtain a custom night guard to reduce biting forces while you sleep.
If you've already experienced excessive dental wear, there are cosmetic options like porcelain veneers or dental bonding that can restore your smile to a more youthful appearance and help protect your teeth. But if you haven't reached that point, you can make sure you don't by taking care of your teeth and gums and seeking prompt dental treatment for problems leading to accelerated wear.
If you would like more information on teeth wear, please contact us or schedule an appointment for a consultation. You can also learn more about this topic by reading the Dear Doctor magazine article "How and Why Teeth Wear."
By LifeSmiles of New Hope
October 03, 2020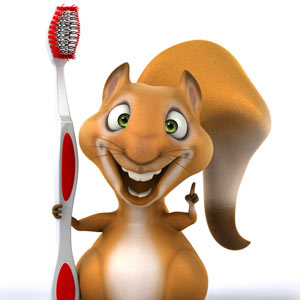 The humble squirrel—darlings to some, bird feeder-robbing nuisances to others—has its own month. Since 1995, the Squirrel Lovers Club of Chicago has celebrated October as Squirrel Awareness Month to pay tribute to this diverse family of rodents with over 270 species. It's also an opportunity to indulge in our favorite "squirrelly" fact: Squirrels' teeth don't stop growing.
And we do mean grow. A squirrel's four front incisors increase about 6 inches a year—a good thing since squirrels put those teeth through their paces gnawing through hard-shelled nuts and seeds. If they didn't keep growing, you'd see plenty of squirrels with worn-to-nothing front teeth.
We humans have some cause to be envious because, unlike squirrels, our permanent teeth stop growing by the time we reach adulthood. That could be a problem since nearly all of us encounter tooth wear as we age.
And it could be even worse. Bad habits like crunching ice, biting into hard foods or using our teeth as tools can contribute to accelerated wear. Some people also involuntarily clench or grind their teeth, creating higher than normal pressure that can wear down teeth.
Suffice it to say, it's worth the effort to quit conscious bad dental practices to prevent your teeth from wearing faster than normal. A teeth-grinding habit, though, may require more than willpower: We'll need to look at other ways to reduce its effect on your teeth.
First, you may want to try to reduce chronic stress, the top contributor to adult teeth grinding. Better stress management with the help of counseling, relaxation techniques, biofeedback or group therapy can all help reduce the occurrence of this destructive habit.
Such efforts, though, can take time. In the meantime, we may be able to help you reduce the effect of a grinding habit with a custom-made mouth guard. This plastic guard worn in the mouth prevents teeth from making hard contact with each other during grinding, and so it reduces the damaging forces that can wear down teeth.
By the way, if you've already experienced excessive tooth wear, not all hope is lost. We may be able to restore your teeth to normal length with the help of bonded porcelain veneers or crowns. After a thorough evaluation, we can give you options for turning back the "age clock" on your smile.
Our teeth may not continuously grow like squirrels', but we can still protect them from the effects of excessive wear. Good dental practices and habits—and restorative measures when necessary—can keep your smile looking as young as ever.
If you would like more information about tooth wear, please contact us or schedule a consultation. To learn more, read the Dear Doctor magazine article "How and Why Teeth Wear."
By LifeSmiles of New Hope
January 27, 2020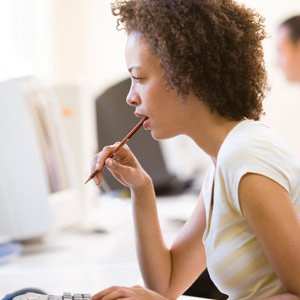 While tooth decay and periodontal (gum) disease destroy more teeth than any other causes, both of these diseases are largely preventable with proper oral hygiene and dental treatment. It's more than possible, then, to enjoy a lifetime of healthy, disease-free teeth.
But even with healthy teeth, the effects of aging will cause tooth wear over time. And although we can't prevent the aging process from occurring altogether, there are steps we can take not to accelerate the process.
Most tissues, including bone and teeth, have a growth cycle in which older cells are broken down (known as catabolism), removed and replaced by newer cells (anabolism). As we develop during childhood, the growth phase exceeds breakdown; when we reach adulthood, the two phases come into equilibrium. But as we age, breakdown will gradually overtake growth. This aging effect results in, among other outcomes, tooth wear.
"Normal" wear appears to be greatest — and most visible — along the biting surfaces of the teeth. The forces generated when we bite or chew causes enamel to erode over time. Unfortunately, you can accelerate this process through bad oral habits: clenching or grinding teeth, often times at night while you sleep, as well as habitually chewing on hard objects like nails or pencils.
Normal forces generated when we bite or chew are actually beneficial for dental health — they help stimulate bone growth. But when they exceed their normal range as when we clench or grind our teeth, they can increase tooth wear and cause other problems such as diminished function or changes in appearance, such as a shortened facial height.
To slow the rate of wear, it's important to modify any behaviors that may be contributing to it. In many cases an occlusal night guard worn while you sleep helps prevent teeth clenching. You may also need assistance with stress management, a major trigger for these kinds of habits, through biofeedback therapy or counseling.
If you've already encountered excessive wear, bonding techniques using colored composite resin, veneers or crowns that attach directly to the teeth can restore lost function and rejuvenate the appearance and color of your teeth. We can perform a "smile analysis" to determine if one of these techniques is right for you to help you regain a more youthful and attractive smile.
If you would like more information on aging and tooth wear, please contact us or schedule an appointment for a consultation. You can also learn more about this topic by reading the Dear Doctor magazine article "How and Why Teeth Wear."